CONGRATULATIONS TO OUR 22-23 YEGUA VARSITY CHEERLEADERS: Captain: Bryanna Surovik Co-Captain: Savannah Eschete Varsity Cheerleaders: Madissyn Morales, Keyanah Crowl, and Victoria Myers!
Community wide Easter Egg Hunt at Pazdral Park on April 9, 2022 at 11 a.m. !! Thank you to those who are helping with this event: Citizens State Bank, Rhodes Building, B&B, the Ramirez girls, Darryl Ellis and CrossRoads Band! We are going to have an AMAZING EASTER EGG HUNT!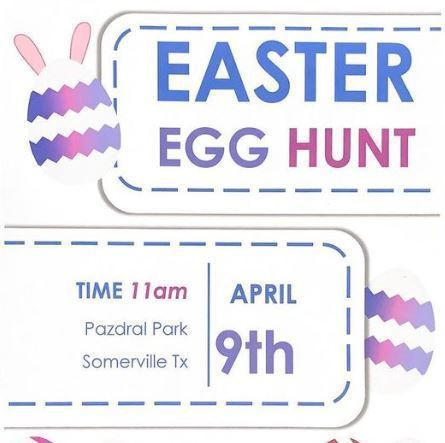 The Neatherlin family would like to thank Somerville ISD and community members for giving us a chance to lead the athletic program, and for accepting us into the Yegua Nation family! Leaving Somerville will be extremely difficult because of all the positive relationships, and great friends we have made over the last 3 years. Your support has been amazing and we will never forget it! The bar has been raised in the Somerville athletic program, and that's because of the hard work and commitment of players and coaches. Every program has made the playoffs, and our student-athletes have been recognized for their athletic excellence as well as their academic achievements. The excitement for the program can be seen by the increased number of those participating in athletics, which I believe will add to even greater success in the future! We would like to thank the community, teachers, administration, school board and Mrs. Sparks for everything! Lastly, I would like to thank my players and coaches for giving us a chance and believing in the process and wanting to make the Yegua program special. Telling you goodbye was one of the hardest things I've ever had to do, and will miss everyone so much. Leading the Yegua program has been an honor and a privilege! GO YEGUAS! Cal, Kim, and Seth Neatherlin

The Area Meet is Wednesday, April 13, 2022, in Deweyville! District 26-AA Area Qualifiers (*) and personal record (PR) noted below. Girls High Jump- *Emma Kovasovic- 4th (PR) Long Jump- *Camia Martin- 2nd (PR) Triple Jump- *Emma Kovasovic- 1st (PR) Pole Vault- *Deana Williams- 2nd (First Female PV to Advance) (PR) 4x1- *Ra'Maya Carter, Emma Kovasovic, Deana Williams, Camia Martin- 1st 800- *Destiny Vela- 2nd 100- *Camia Martin- 1st 4x2 *Ra'Maya Carter, Emma Kovasovic, Mardaisa Snowden, Deana Williams- 2nd 200- *Ra'Maya Carter- 2nd 200-Mardaisa Snowden- 6th Boys Discus- Dustin Vess- 5th High Jump- *Gavin Williams- 1st Long Jump-*Verkobe Woodberry- 2nd (PR) Long Jump- *Johnny Legg- 3rd (PR) Shot Put- Cedric Hudgen 5th 4x1- *Ian Teague, Dameon Bryant, Verkobe Woodberry, Johnny Legg- 1st 100- *Dameon Bryant- 1st (PR) 100-*Verkobe Woodberry- 2nd (PR) 4x2- *Johnny Legg, Dameon Bryant, Verkobe Woodberry, Ian Teague- 2nd 300 *Hurdles- Kason Rohrbach- 3rd (PR) 300 Hurdles- Gardner Shivers- 6th 200- *Ian Teague- 2nd (PR) 200-Jonny Legg- 5th 1600- *Javen Henderson- 4th (PR) 4x4- *Victor Orozco, Kason Rohrbach, Gardner Shivers, Gavin Williams- 3rd Awesome Job Track Yeguas!!!!
41st Annual College Station Easter Celebration George H.W. Bush Presidential Library and Museum Saturday, April 9, from 9:30 a.m. until noon Activities at the free event will be available for children ages 7 and under and will include an Easter Egg Hunt, egg roll, egg toss, carnival games, bounce houses, face painting, door prizes, kite flying, balloon animals, complimentary refreshments, and photos with the Easter Bunny. Our "Beeping Egg Hunt" will return for our community's blind and visually impaired (of all ages). The beeping eggs are assembled by College Station's Bomb Squad. Event Schedule: • 9:00 a.m. – Door prize registration begins at the stage • 9:30 a.m. – Carnival games, face painting, balloon animals, and concessions begin • 9:50 a.m. – The Easter Bunny Arrives! • 10:00 a.m. – Egg Hunt begins on 3 fields (ages 3 and under, 4-5, and 6-7). The beeping eggs are on their own field. While we have a lot of eggs, the egg hunt goes very quickly, so DON'T BE LATE! • 10:15 a.m. – Door Prize Drawing at the Stage • 12:00 p.m. – Event concludes The College Station Easter Celebration, modeled after the annual White House Easter Egg Roll, has been hosted by the Bush Library and Museum in partnership with the College Station Police Department since 1999, but the event has a long tradition in College Station. The police department has been putting on this event since its humble beginnings in 1982. The event is free and registration is only required for those who wish to participate in the door prize drawings. The door prizes, generously provided by the College Station Walmart, will be awarded at the event. These prizes consist of a bicycle and helmet to be given to a boy and girl in each of three age categories: 3 and under, 4-5, and 6-7. In order to be eligible for one of the prizes, parents must register their children at the event, and you must be present at the stage at 10:10 a.m. in order to win. In addition to the Bush Library and the City of College Station, sponsors of the College Station Easter Celebration include College Station Walmart, MPS Eggs Services – Feathercrest, Peace 107, The Barracks, Candy 95, LaJefa, Maverick 101, The ZONE, Willy 97.7 and WTAW. Free parking for the event will be available in Lots 43 and 111. Barbara Bush Drive will be closed, so attendees should enter through Research Park. For more information, visit
https://www.bush41.org/events
or call (979) 691-4014. Best Regards, Michelle Briggs Public Relations Coordinator College Station Police Department (979) 764-6389 |
mbriggs@cstx.gov

Somerville Yeguas Varsity Takes Victory Over North Zulch In A High-Scoring Affair: Tuesday, April 5, 2022 Both Somerville and North Zulch had their offenses going on Tuesday, but Somerville eventually prevailed 25-14. The Lady Yeguas opened up scoring in the first inning. Emma Kovasovic drove in three when Kovasovic homered. Aubrey Kovasovic earned the victory on the rubber. The pitcher went one and two-thirds innings, allowing eight runs on three hits and striking out one. Emma Kovasovic threw four and a third innings in relief out of the bullpen. Kovasovic recorded the last 13 outs to earn the save for Somerville. Somerville socked three home runs on the day. Ra'Maya Carter went yard in the third inning. Kovasovic had a homer in the first and sixth innings. The Lady Yeguas collected 15 hits. Emma Kovasovic, Kaelyn Chavez, Carter, Jocelyn Ponce, Averie Hernandez, and Aubrey Kovasovic each managed multiple hits for Somerville. Carter, Chavez, and Aubrey Kovasovic all had three hits to lead Somerville.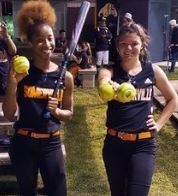 **Exciting news! I am now accepting registration for Within My Reach (Relationship Class) and also for the upcoming Parenting Class (all classes are for clients ages 18-24). The relationship class will begin Monday, April 25, 2022 and the parenting class will start afterwards. All classes will be held virtually via Zoom and will be held in the evenings for 6 weeks. This is a FREE series and gift card incentives given for program completion. Preregistration is required by April 18, 2022. **Please have them call me at (979) 567-2312 or email me at
Holly.Narro@ag.tamu.edu
so I can register them ASAP. Since classes will be held virtually, it is not limited only to Burleson County residents, so anyone can register. Thanks Holly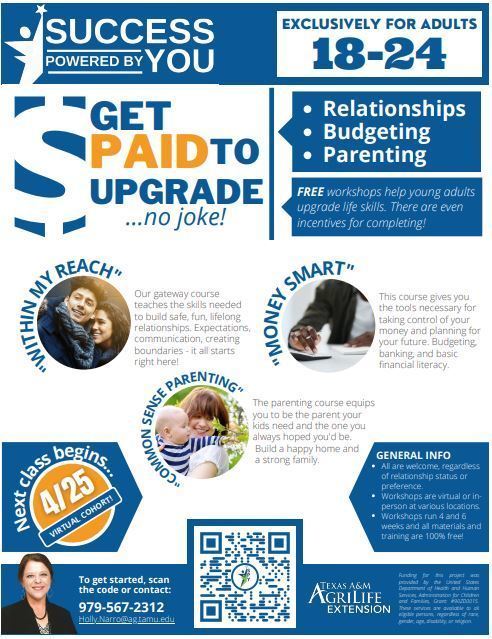 Meet Ediel Garcia, our 2nd Grade Student who has worked very hard in class. We are so proud of his efforts in all subjects that he earned a Sonic Ice Cream. Keep up the good work Ediel.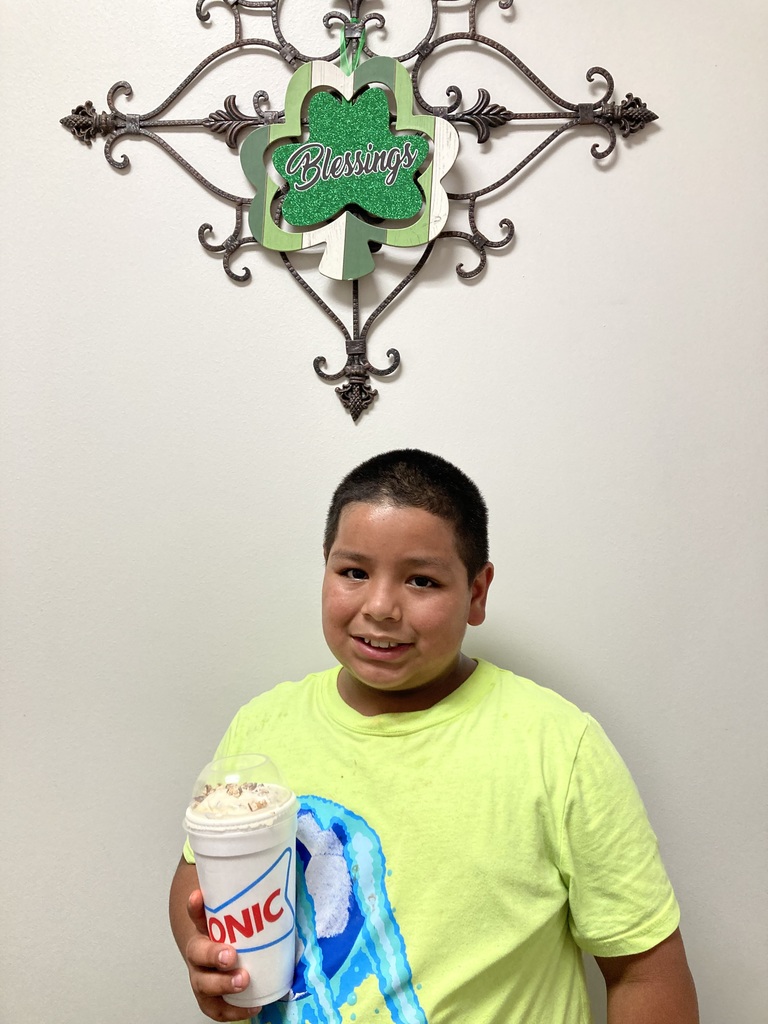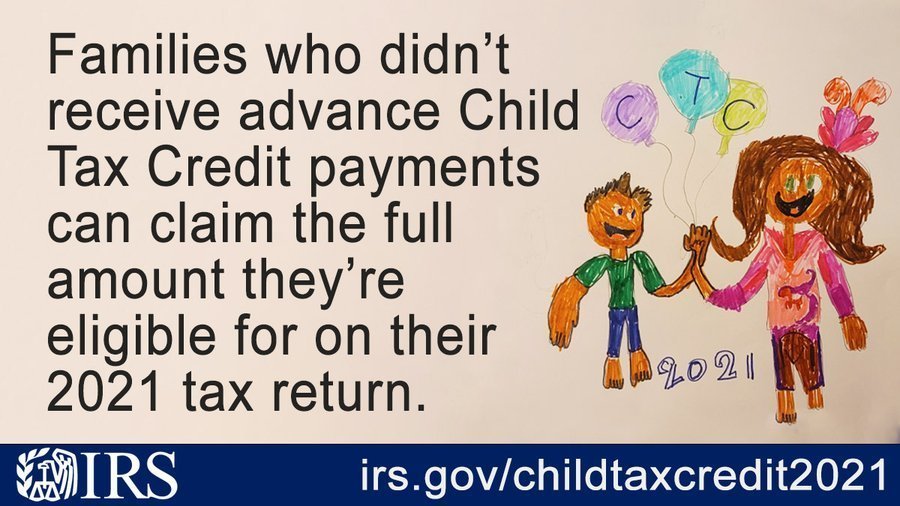 District Track Meet Schedule: April 6, 2022 @ Snook Bluejay's Stadium!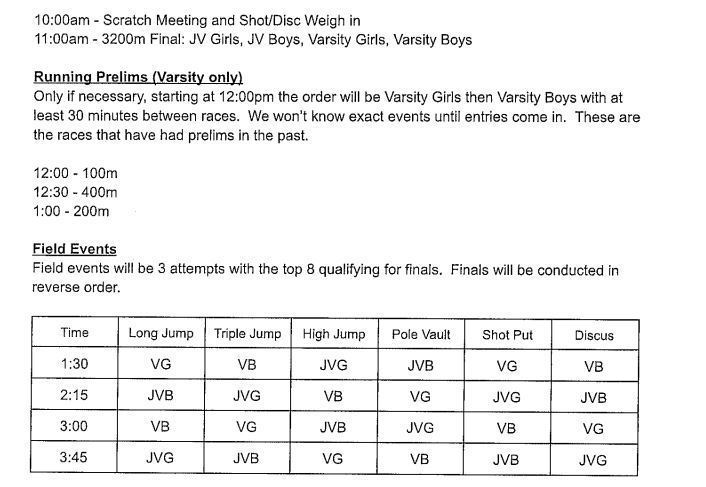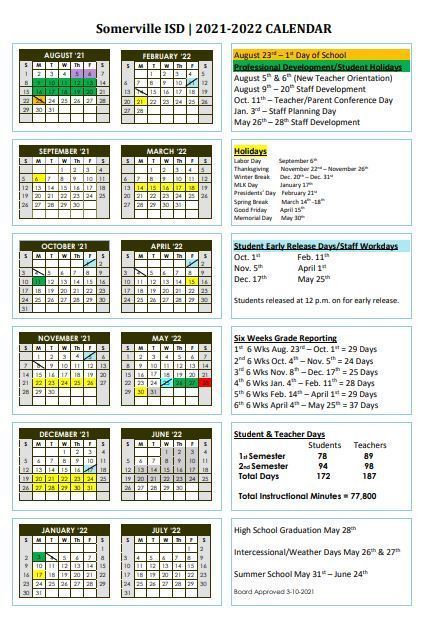 Check out our website calendar for Athletic Events/UIL/Field Trips:
https://www.somervilleisd.org/events
Friday, April 1st: All Student Release at Noon Softball @ Home vs Iola at 5 PM Baseball @ Fayetteville @ 630 PM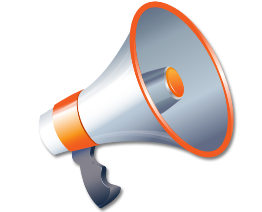 Congratulations to these Somerville FFA Members who competed at Rodeo Austin in the Jr. Breeding Heifer Show! Barrett Howe was Breed Champion in the Limousin Heifer Show. Hadley Howe was Champion and Reserve Champion in the Angus Heifer Show. Jalynn Urbanosky placed in the Angus breed show.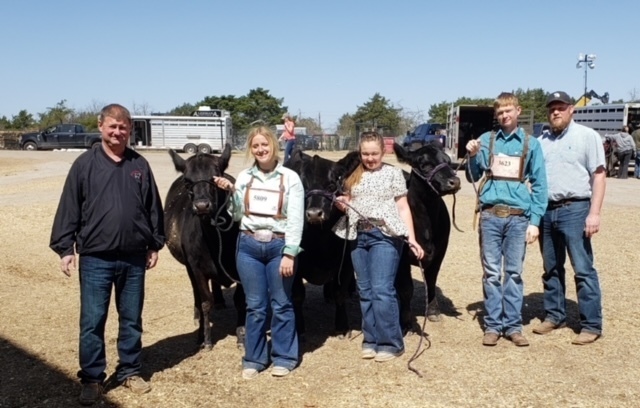 Congratulations!!! Gracie Tuck placed 3rd in UIL Academic District Meet in Poetry contest on March 26, 2022 in Normangee. She advanced to the Regional Meet to be held in April. Also placing was Savannah DeLeon in Computer Applications, Aubrey Kovasovic in Number Sense, and Dakota Carpenter in Poetry. These young ladies all placed 5th in their respective events.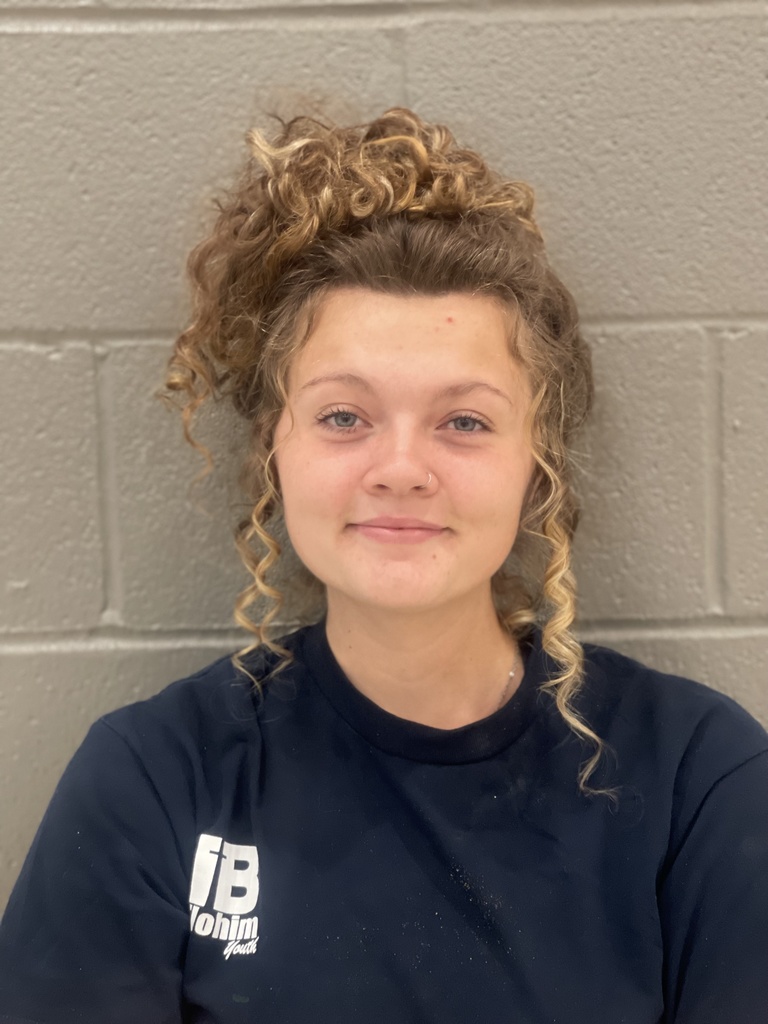 At the state powerlifting meet on Friday the 25th, Verkobe Woodberry, Herschel Conway, and Caden Espinosa competed for the Yeguas. Caden did everything he could, but came up just short of a medal in his weight class at 6th place. He set a PR in total weight and tied the school record for squat. Herschel Conway pulled more weight on his deadlift than I have ever seen him do to receive 5th place. He had a career day setting PRs on bench, deadlift, and total weight. And finally Mr. Verkobe Woodberry took home the 2nd place medal. He had a chance at the very end to win it all, but came up just inches short on his last deadlift attempt of 475! Overall we placed 17th out of 85 teams in the division. Additionally, Richard Rivera-Espinoza and Payton Sprouse received 2nd Team Academic All State honors from the Texas High School Powerlifting Association. Congratulations to those two fine seniors that will be sorely missed. Best, Coach Ethan Watson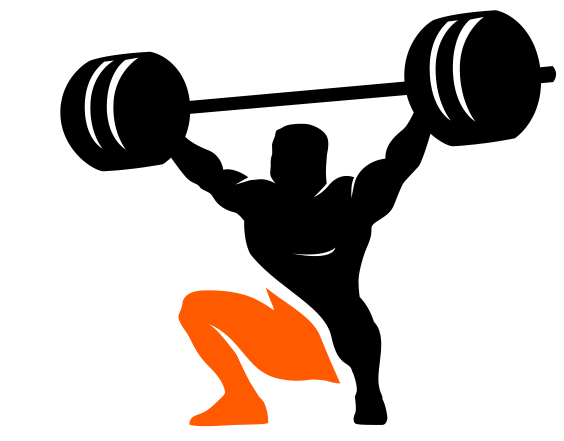 Somerville ISD has a new activity bus for our students to travel for sports, UIL events, etc. Our Yeguas will be traveling in style!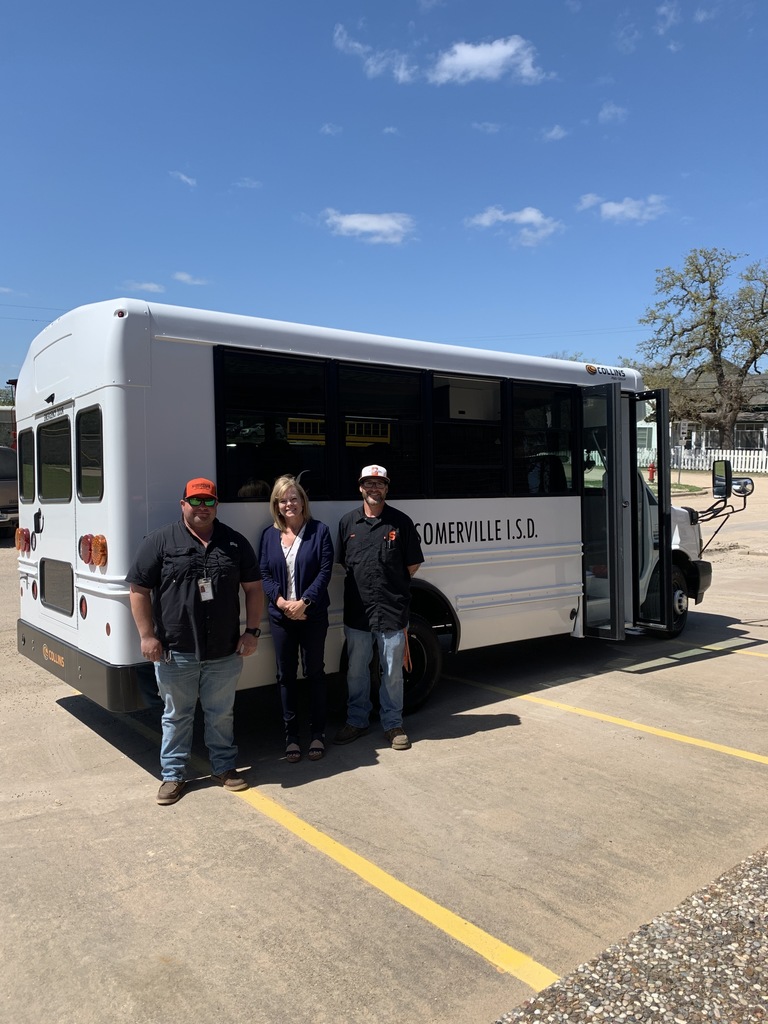 We would like to take the time to congratulate Ra'Maya Carter on being named to the TABC Region 4 All-Region team. It is a great way to cap off her season. -Coach Colvin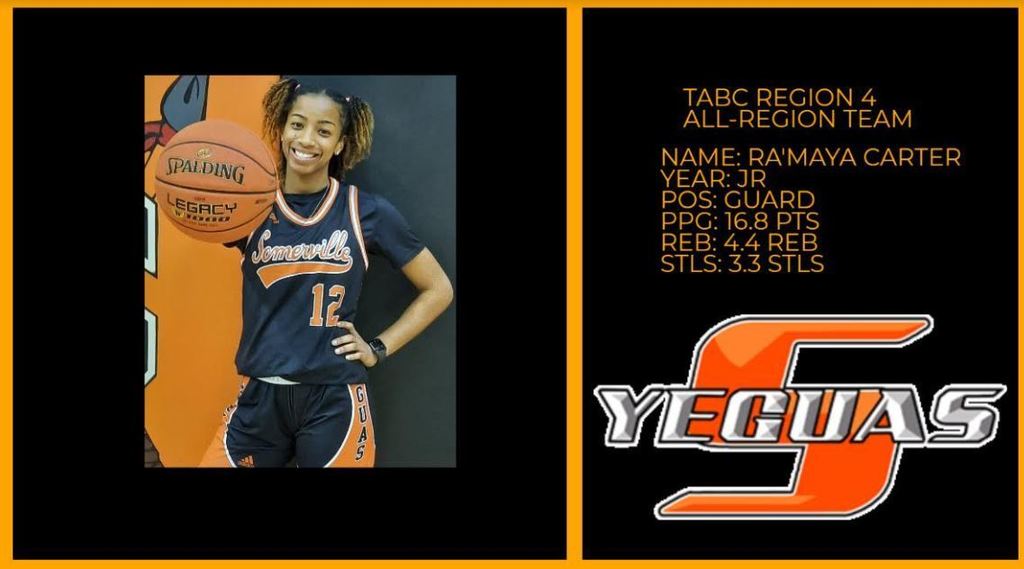 Wednesday, March 23, 2022: Emma Kovasovic and Cullen Sablatura placed 1st in mixed doubles at the Normangee tennis tournament! Congratulations Tennis Yeguas!!!