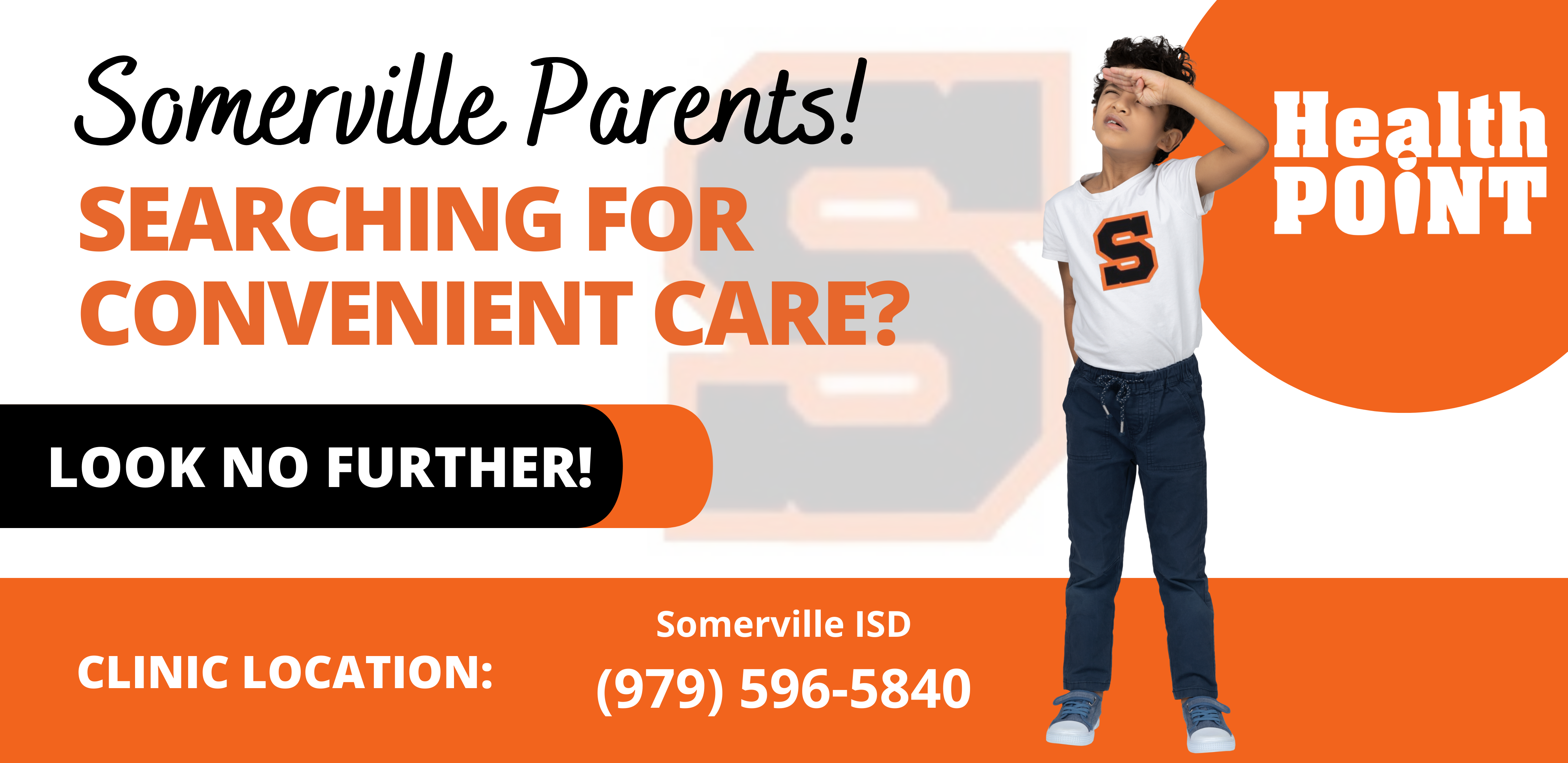 Somerville ISD and HealthPoint are excited to announce a new collaboration that will make healthcare services available at a school near you! Our school-based clinics offer access to HealthPoint providers, with a wide range of telehealth services for acute care needs designed to make getting healthcare as easy as walking down the hall or visiting a nearby campus. In addition, HealthPoint providers will provide scheduled wellness visits, including immunizations, flu shots, and other services, periodically throughout the school year.
Services are now available through the HealthPoint - Somerville ISD School Clinic for Somerville ISD students, faculty, and staff. These services include telehealth acute care, well-child check-ups, sports physicals, health education on nutrition, disease and injury prevention, vaccinations, and prescriptions as needed. The clinic is open during regular school hours. Parents/Guardians can participate in the visit by coming to the school via telephone or video conference or receive a detailed post-appointment report.
HealthPoint's School-based clinics for Somerville ISD provide care to registered students and current SISD faculty and staff only.
Register yourself or your child today by filling out and returning the attached paperwork in one of the following ways:
Registration Packet- Click to print out Form- English
Paquete de inscripción- Haga clic para imprimir el formulario- Español
1. Scanned and emailed to SomervilleISD@HealthPoint‐tx.com
2. In a sealed envelope to your child's campus.
3. Delivered to HealthPoint – Somerville Clinic: 605 8th St., Somerville, TX 77879.
HealthPoint accepts all major insurances, CHIP, Medicaid, and Medicare, and has eligibility specialists available daily. HealthPoint also offers an income‐based sliding fee scale for those who do not have insurance. Be sure to include a copy of your ID and your insurance card(s) if you have them to avoid delays.
Somerville ISD and HealthPoint thank you for trusting us with the care of your children daily. If you have questions or concerns, don't hesitate to contact either the HealthPoint - Somerville ISD School Clinic ISD at (979) 596-5840, or Jennifer Reynolds with HealthPoint at (979) 209-9955.